ITMR becomes ETS Authorized TOEFL iBL Test Partner
We are pleased to announce that Institute of Technology Management & Research – Chennai located at
HTC Towers, No. 41, GST Road, Guindy, Lab location – 3rd floor, Chennai, TN, India, 600 032 is an approved ETS Certified Test Administration Site.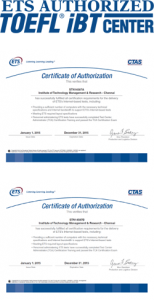 For more information regarding ETS or the TOEFL iBT test, please contact
Ms.Dhara Pathak  +91-9791045232  /  91-44-22338888 / Ext. 3566.
Email : dhara.pathak@htcindia.com
Why Select ITMR as TOEFL centre?
Adjacent to Guindy bus top
5 mins walk from Guindy railway station
5Kms from Domestic & International Airport
Land mark : 500 yards before Le Royal Meridien Hotel
Entire test centre is centrally air-conditioned
24/7 Electricity, Generator & UPS – Power Back up facilities
Adequate amount of rest rooms, drinking water, tea & coffee vending machines available
Adequate amount of Parking facilities for 2 & 4 wheeler
High speed multiple internet connection
Note: Carry your Original passport and registration details for the TOEFL exam.
TOEFL iBT Test
The improved, next generation "internet-based" TOEFL iBT comprehensively evaluates the students' integrated English language communication proficiency: listening, reading, speaking, and writing skills.
TOEFL iBT is delivered in secure testing centres and administered on fixed dates. TOEFL iBT consists of four sections: reading, listening, speaking and writing and each test is linear having a fixed time, fixed number of questions, and will take about 4 hours to complete all the tests. Performance will be evaluated on a scale of 0 to 30 for each test and the total score will be 120.
Before you decide to take the TOEFL iBT test, get all the relevant information pertaining to the test: test structure, test fees, test administration centres, test registration, etc. During registration you are supposed to mention the names of 4 colleges / universities where you want your scores to be reported.
On the day of the test reach your TOEFL iBT test centre at least an hour before the test starts. Remember to carry your valid passport without which you will not be eligible to take the test. You will not be permitted to carry cell phones, calculators, etc. inside the test centre. The test centre will provide pencils, papers, erasers, and headset with microphone.
After you finish your test, do not forget to click report scores.
Your TOEFL iBT scores will reach you approximately 15 days after you take the test. The colleges / universities you had earlier indicated will also receive your TOEFL iBT scores same around the same time.